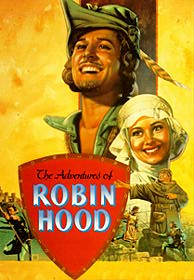 THE ADVENTURES OF ROBIN HOOD (1938)

Robin Hood and his "Merry Men" rob from the rich, give to the poor, and fight the dastardly Prince John and his evil plans.
The Action-Adventure Sword/Fighting classic directed by: Michael Curtiz and William Keighley.
The cast includes: Errol Flynn, Olivia DeHavilland, Basil Rathbone, Claude Rains, Ian Hunter, Eugene Pallette, Alan Hale, Melville Cooper, Patrick Knowles, and Una O'Connor.
Four Oscar nominations; three wins (Film Editing, Original Score, and Art Direction). (MORE)