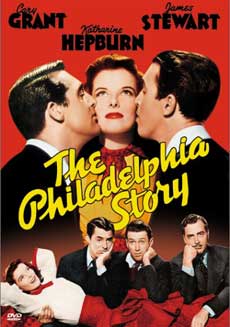 THE PHILADELPHIA STORY (1940)
A rich, society woman, Tracy Lord, as she prepares for her second marriage, is slowly made aware of her callousness, through various hilarious, if squirmy situations with the men in her life; her father, her ex-husband, her fiancee, and her new interest.
The perfect cast includes: Cary Grant, Katharine Hepburn, Jimmy Stewart (Best Actor Oscar), Ruth Hussey, John Howard, Roland Young, Virginia Weidler, and Mary Nash.
Director George Cukor has created his comedy masterpiece. Cukor received a nomination for best directing.
Six nominations, two Oscar wins (Best Actor and Adapted Screenplay). MORE