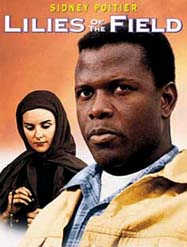 LILIES OF THE FIELD (1963)

A simple yet well-told, uplifting tale of how a group of Catholic nuns, led by a formidable Mother Superior, through their prayers, faith in God and determined perseverance convince an unemployed construction worker and ultimately the whole community to build a much-needed chapel on the non's farmland, in the middle of an Arizona dessert.

The cast includes: Sidney Poitier, Lilia Skala with Lisa Mann, Isa Crino, Dan Frazer, Stanley Adams, and Francesca Jarvis.
Directed and produced by Ralph Nelson. Screenplay was by James Poe, was based on the story by William Barrett.