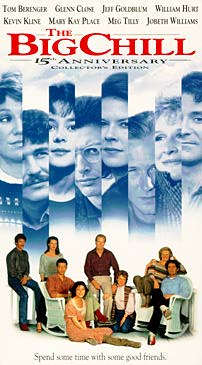 The Big Chill (1983)
A friend's suicide prompts reflection and closeness among his old high school friends, now middle-aged.
The cast includes: Kevin Kline, Glenn Close, Tom Berenger, Jeff Goldblum, William Hurt, Mary Kay Place, Meg Tilly, and Jobeth Williams.
Directed by: Lawrence Kasdan. Written by: Lawrence Kasdan and Barbara Benedek. Executive Producers: Marsha Nasatir and Lawrence Kasdan.